Religious School
Welcome to the Temple Chaverim Religious School, where we inspire children to embrace Judaism with joy, enthusiasm and pride in an educational, friendly setting – chaverim actually means "friends" in Hebrew. Our flexible class schedules (including virtual classrooms!) easily fit into any family's hectic weekly routine.
Age-appropriate curriculum engage students in learning about Jewish culture, Torah, holidays, Israel, mitzvot and tikkun olam("good deeds"), history, tzedakah ("charity") and more, including of course the study of Hebrew reading, language, and prayer. Through interaction with teachers, clergy, family and peers, we encourage students to develop their own ideas about Jewish pride today and for their future.
Preschool: Shabbat "PJs & Prayers" and Sunday morning "Circle Time" are free monthly gatherings that are specially tailored for children ages 2-5 and their families, offering stories, songs, snacks and lots of smiles – the perfect introductions to our religious school. Temple members and non-members welcome; all children must be accompanied by a caregiver.
Kindergarten, First and Second grade: Our youngest chaverim come together with big voices to sing songs, learn bible stories and culture, create art projects and have tons of fun on either Sunday mornings or Tuesday afternoons.
Third and Fourth grade STARTING FALL 2022: Chadash is our "new" learning experience for 3rd and 4th grade students of Jewish exploration that is interactive and community-driven. Our goal through Chadash is to provide all of our students with meaningful Jewish learning that will help them create a strong foundation upon which they will build their futures as Jewish adults. Chadash will focus on each student's individualized growth with small group Hebrew learning and explore Judaism through different avenues of learning, like the arts and STEM.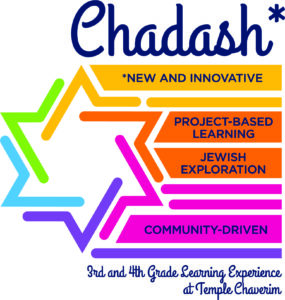 Fifth and Sixth grade: Shalom Learning Virtual Classroom (online school, pjs welcome!) becomes a Sunday morning option for Judaica; actual in-school classes with the same curriculum at the same time are also available. One extra weekday session at the temple is added for more in-depth Hebrew study. Sixth grade is also the time for some students, depending on their birthdays, to begin bar/bat mitzvah prep.
Seventh grade: While some students are attending their personal Bar/Bat mitzvah tutoring sessions, everyone is still meeting on Wednesday evenings. Discussions, study and field trips focus on the Holocaust, tikun olam ("repairing the world") and community service, Hebrew language, blessings and prayers.
Have questions? Need more detailed information?
Please don't hesitate to contact Mrs. Peckman, Director of Jewish Education and Youth Activities, mpeckman@templechaverim.org
or call the Religious School Office at (516) 367-6100.