Benefits of Membership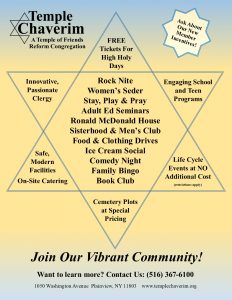 New Member Incentives For Family, Single Parent Family and Post Bar Mitzvah Family Memberships:
50% Off First Year Dues
Prepay the Building Fund* and Receive a Discount!
Standard Building Fund Payment is Over 5 Years. Pay During Years 1-5

-OR-
2-6.
Dues Can Be Paid Yearly
-OR-

in Monthly Installments.
(Same price for either payment method. No processing fees for credit card payments.)
Payment Plans Can Be Tailored to Meet Your Needs.