Sisterhood
Sisterhood Mission Statement
"Temple Chaverim Sisterhood is a dynamic organization of women within our congregation."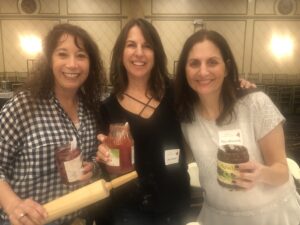 Our mission is to bring together women to serve our temple, support our community and enrich our lives through social events, educational and spiritual programs, fundraising and community service.
We are a diverse group who draw strength from each other in our commitment to our Jewish ideals. Although we work hard, we also have a great deal of FUN with each other. Getting involved with Sisterhood at Temple Chaverim creates friendships that last a lifetime. Whether you have a little time, or a lot, we know that your time will be well-spent and that you will strengthen your connections to your Jewish heritage, to your sisterhood of friends and to your family by giving your time and involvement with our Sisterhood.
Without you, we are one woman short!
Sharon Goldberg, Sisterhood President
Tara Isler, Sisterhood Treasurer
Email Sisterhood To Learn More
Sisterhood Judaica Store
Stop by our Sisterhood shop by the main entrance! Happy shopping!